New Meeting Dates!
Beginning with the April 13 meeting, THS Meetings are being held on Thursday evenings.
The Court-Martial of
Paul Revere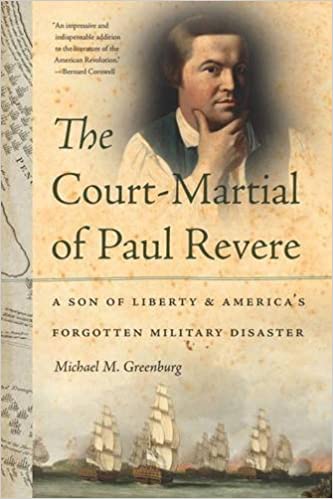 Presented by Michael Greenberg
THURSDAY, May 11, 7:30pm
Gould Barn 1 Howlett St, Topsfield, Massachusetts
The WHAT of Paul Revere?! Micheal Greenberg presents a new angle on the not-so-well-known Paul Revere.
ONLY THOSE WITH LIMITED MOBILITY may park in spaces marked 'Gould Barn' near the walkway, in the Congregational Church's parking lot between the Church's Emerson Center and the Gould Barn. All others MUST park along the east side of East Common Street (same side as Emerson Center) or on Main Street.
To maximize safety and enjoyment for all attendees, THS has adopted the following policies for its programs:
1. All those who attend are required to be vaccinated or wear a mask.
2. Seating will be spread out and the maximum number of attendees may be capped.
3. THS reserves the right to require the wearing of masks if the public health situation warrants it at the time of the event.
A Presidential Appeal for Parking
Dear Friend,
As we emerge from three years of uncertainty, there is much about which to be hopeful. Our monthly lecture series has resumed, we're looking forward to the Strawberry Fesitval, and we have dedicated board members who work tirelessly behind the scenes to meet opportunities and challenges.
First and foremost among these is addressing the new challenge of imminent loss of our designated Gould Barn parking spaces in the Congregational Church parking lot which the Church recently communicated to us. Those of you who don't get to Topsfield very often might not realize that the Gould Barn is a beehive of activity, hosting Society and community events as well as private groups whose rental fees provide the income necessary to maintain the THS property. These spaces were critical for ADA compliance, accommodating limited mobility guests, and event-related vendor parking. They are required for our continued use of the Barn, and for renting the Barn to generate income for property maintenance.
We are developing a plan to add parking on our property, and pursuing every path to fund this unexpected expense. While the final plan and price tag have yet to be finalized, all options are costly, running from tens of thousands of dollars to well over $100,000. The project must be completed this summer. See The Annual Meeting video on the THS website for a more comprehensive overview.
Our membership renewal offers an opportunity to donate to this VERY IMPORTANT initiative, and we hope that you will give generously, knowing that you will be making a real difference to the future of the Society.
Sincerely,
Anne Barrett, President
Annual Membership Meeting Video
If you want to check on what you heard at THS's annual meeting last month or if you just weren't able to come, here's the video:

---
---
Sharing the Love of History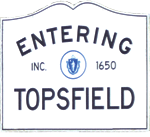 The Topsfield Historical Society is dedicated to the study and preservation of the history of Topsfield Massachusetts. All volunteers, we are active participants in the vitality and character of our small town. We invite all Topsfield residents and those interested in the preservation of our town's history to join in on our many opportunities to be involved.
We are organized to enjoy, learn and preserve the history of Topsfield, the Commonwealth of Massachusetts and the United States of America. We offer monthly talks on a wide variety of historical topics such as colonial slavery, women's history, Boston history and historical actors such as Eleanor Roosevelt and Mark Twain. We run educational programs for Topsfield schools and local children. Every June, we sponsor the Strawberry Festival which features Topsfield's local nonprofit organizations, local history exhibits and local craftspeople.
Since the early 1900s, we have owned and cared for the 1683 Parson Capen Historical House.
Interested in seeing the Parson Capen House? Private tours are available upon request by emailing: capenhouse@topsfieldhistory.org. Please give us two weeks notice before you would like to come. Volunteers are not usually available on short notice.
In the 1990s, we moved and restored the 300 year old
Gould Barn
which we now offer to the community as a meeting and event space.
Study
We also actively promote research and promotion of Topsfield's history through scholarships, lectures and Topsfield school programs. We collaborate with the
Topsfield Town Library
, the
Topsfield Town Clerk's office
,
the Essex National Heritage Commission
,
Gordon College (Wenham)
and other historical and cultural organizations within Essex County and the Commonwealth of Massachusetts.
Our new project for the new millenium is the Digital History Online Project. We are creating a new website that will act as a central clearinghouse for all original and secondary source resources on Topsfield's history. Since our beginnings in the late 1800s, the Topsfield Historical Society has published over 30 volumes of information and historical research results regarding Topsfield's history. Digital History Online Project is the beginning of a new effort to make this information easily accessible to researchers of all types into the future.
Strawberry Festival
Our major fundraiser is the annual June Strawberry Festival which attracts newcomers, old-timers, and visitors from all over Massachusetts and the United States.
Contact Us
The Topsfield Historical Society has existed for over 100 years and has over 400 members in 18 states.
We invite you to join our membership.
The Gould Barn page has more information on renting the Barn for your next event.
Questions about our historical archives can be addressed to HistoricalRecords@TopsfieldHistory.org.
We invite you to explore our website,
send us your comments
and
join our Society
.
Please Note: Do NOT call the Gould Barn phone number. That phone is for internal purposes only. No messages are taken and no calls returned.

The Society can be reached by email only. Please use the appropriate emails above or use webmaster@topsfieldhistory.org.