Parson Capen House
2019 Summer Hours
1:00 - 4:00pm
Sunday, Wednesday, Friday
June 9 to August 30
(Please check this page before your visit!)
Free
Volunteer Docents on site to explain the history of the House and Grounds.
If you are coming from a distance, or further questions, please email CapenHouse@TopsfieldHistory.org to verify that the House will be open.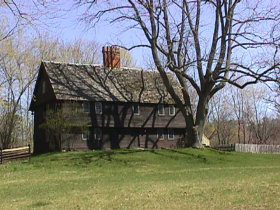 The Parson Capen House is one of the finest surviving example of Elizabethan architecture in America. The house is situated on a knoll overlooking the Common, originally on a twelve acre lot of land granted Reverend Capen by the Town in 1682. Parson Capen served the Church in Topsfield for 44 years until his death.
The Topsfield Historical Society purchased the house in 1913. It was restored under the direction of George Francis Dow, and an official housewarming was held on January 14, 1914.
History of the Parson Capen House
Download written directions(pdf file).
In 1960 the Parson Capen House was designated a National Historic Landmark. In awarding the designation the U.S. Department of Interior stated that this site possesses national significance in commemorating the history of the United States of America.