Strawberry Festival
Come join us!
Topsfield Common,
Saturday June 13, 2015
Rain or shine
No entry fee and plenty of free parking available.
Summer begins in Topsfield
The second Saturday in June marks the beginning of summer with the Topsfield Historical Society's major fundraising event: The Annual Strawberry Festival. Bowls and bowls of fresh strawberries, whipped cream and piles of shortcakes are prepared and served by our volunteer members.
Now is the time to plan ahead for graduation, wedding and holiday gifts.  We have over 70 fine artisans displaying beautiful handcrafted one-of-a-kind items such as jewelry, pottery, paintings, and woodcrafts. You can browse through the latest donations to the popular Friends of the Library Book Sale.  There are plenty of games for the kids, sponsored by the Masconomet Soccer Team, and live music to tap you toes to from the picturesque Gazebo.
For newcomers this can be their first introduction to our small town life - all the local groups such as the Garden Clubs, the Friends of the Library, the Newcomers Club are among many others available to explain their activities and invite new members.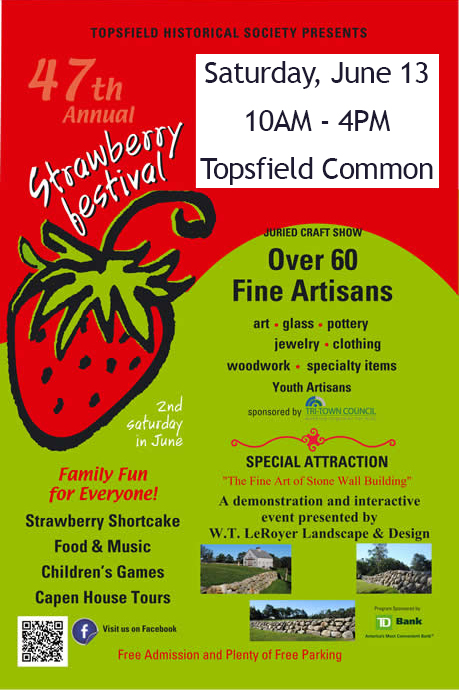 Banner sponsors:
Phalanx Asset Management
Cargill Insurance Agency
Town Crier Properties
Sennott Insurance Agency
Keller-Williams Real Estate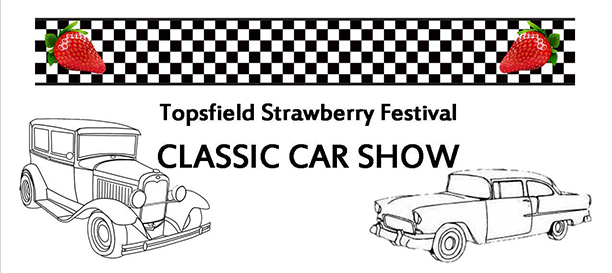 Classic Car Show
Calling all classic car enthusiasts! The first annual Strawberry Festival Classic Car Show will be held during the Strawberry Festival. Come check out the collection of great antique & classic cars on display in front of the Congregational Church.
If you have an antique or classic car or truck that you would like to exhibit, or for more information, contact Bob Barret at 617-823-1849 or email bob.barrett1@verizon.net.
Sponsored by the Topsfield Congregational Church